Submitted by
The Fan Club
on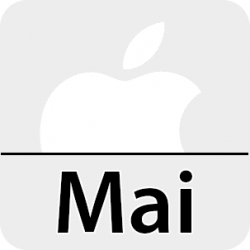 Many great applications are not yet available on the official app store and can be complicated for new users to install.
This application provides a collection of some of the best free and open-source mac OS software and can be considered to be one of the top things to do after getting a new Mac or migrating from Windows.
Selecting and Installing all the extra software on a new Mac computer can be time consuming and confusing. I wanted to automate the process on new machines as well as simplify the installation for new users.
Mac After Install has evolved into being a handy tool for the automated download and install of software.
All comments and improvements are very welcome as this is purely a personal project at this point and must be considered a work in progress.

The source code is available on GitHub.
* Latest Update April 2020
Features
Automated batch download and installation of software
Easy uninstall of any and all software installed
Create custom lists of software to install
Export software installation lists to share
Import software installation lists
Create backup DMG of installed applications
Auto Updated list of selected default applications
Default Software Selection:
The application will install the latest versions of all software listed below as well as inform you of available updates.
Google Chrome is arguably the best browser available
Firefox another top browser
Tor Browser for anonymous internet browsing
Thunderbird for email
Vienna as a RSS and Atom Feed Reader
Telegram Messenger for private messaging
Skype offers text, voice and video chat
Jitsi all in one instant messenger
Adium all in one instant messenger
LibreOffice is the complete open source Office software replacement
Scribus professional quality desktop publishing software
Google Backup and Sync will sync your Google Drive to your computer
DropBox will sync your DropBox cloud storage
VLC will play any video file you can imagine
Cementine for playing music files from anywhere
KODI is a complete home media center experience
Spotify for your music streaming needs
GIMP is powerful image editing software
Darktable allows photographers to process RAW files
Inkscape is vector based illustration and graphics editor
Blender a complete 3D Animation Suite
OBS Open Broadcasting Software
Handbrake to convert DVD's and videos for mobile devices
Burn for burning CD's and DVD's in various formats
KeePassXC to store all your passwords securely
Cyber Duck for FTP and Cloud storage
Transmission for Torrent downloads and uploads
Android File Transfer allow you to browse your android device files
Keka adds missing file compression and decompression
Synkron great for file and folder synchronisation
Brackets for web development started by Adobe
Sublime Text another amazing code editor
Atom a hackable text editor by GitHub
Visual Studio Code code development by Microsoft
For more information on these programs visit the software selection page.
Requirements:
mac OS 64bit, 10.6 or later
Installation:
Download the Mac After Install DMG file from the link provided at the bottom of this page or from our GitHub project download page.
To allow the install of the software go to: System Preferences > Privacy & Security > General. Then click on the lock in the bottom right-hand corner to unlock the options. Then select "Allow apps downloaded from: Anywhere"
Double click on the downloaded DMG file and drag the Mac After Install app to the Applications folder to install.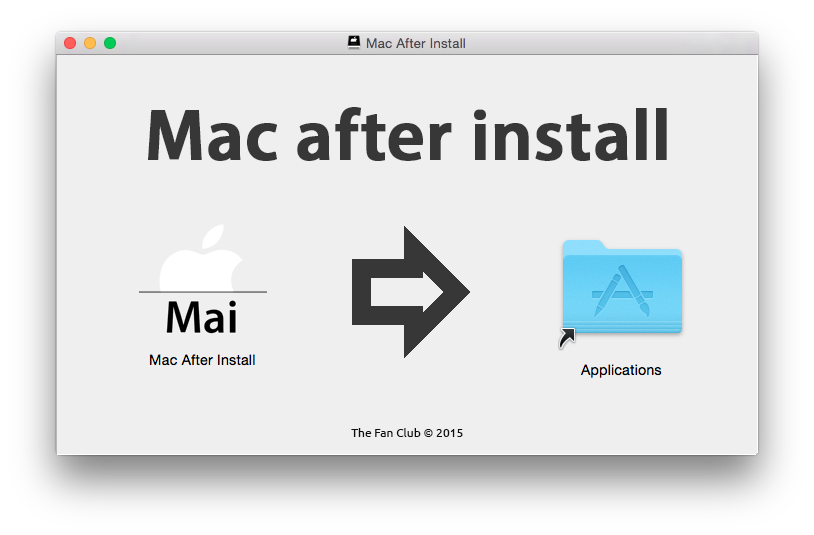 Once installed open Mac After install from your Applications folder.
Follow the on-screen instructions (see screenshots below)
---
Using Mac After Install
1. Installing Software
Start Mac After Install from your applications folder .
Follow the on screen instructions.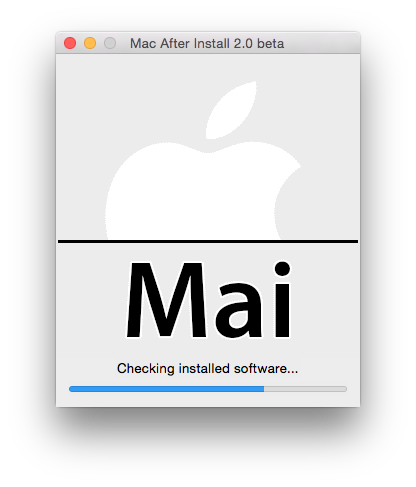 Select the software you would like to install and click Install Now to begin.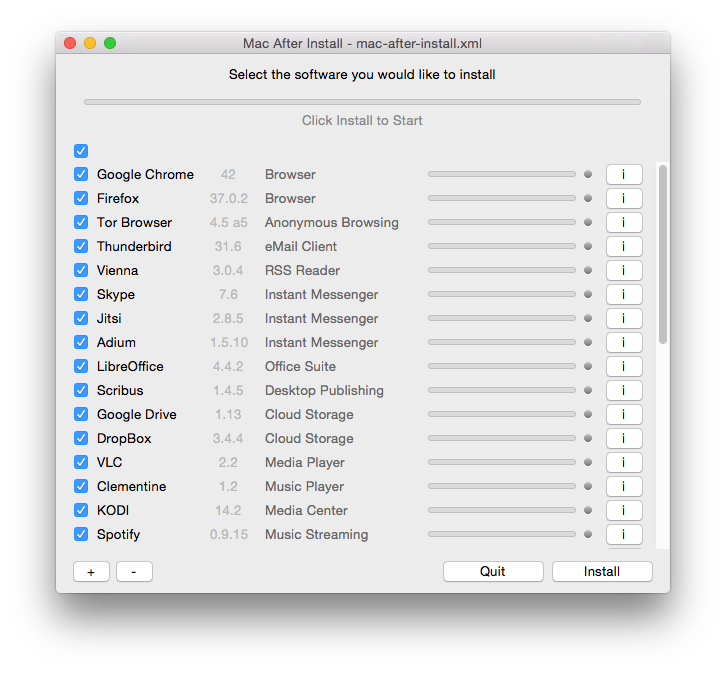 Software that has already been installed will be selected as well, if updates are available for the newer versions.
If you wanted to re-install a item, simply select the application. It will be re-install.
Software marked with an orange dot will be updated or re-installed.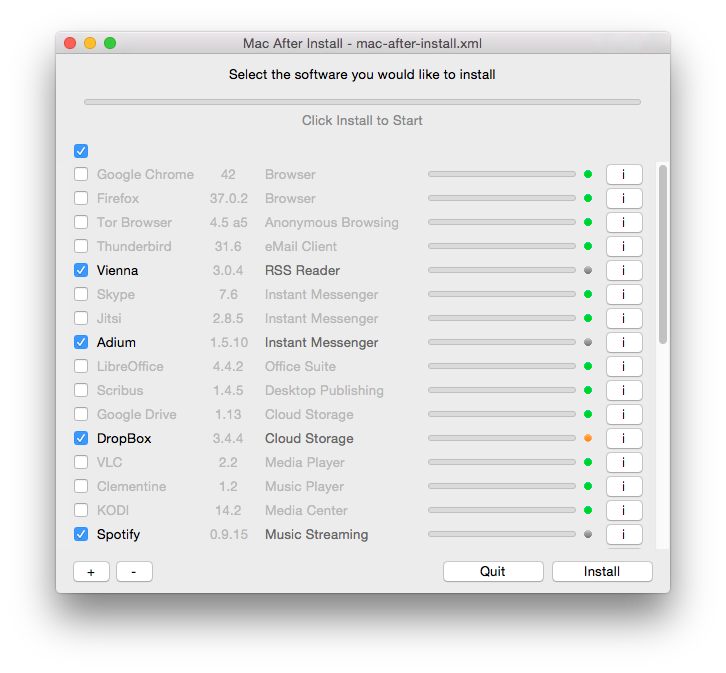 Once you have started the install process be very patient as the installation will take a while to complete.
Once an application has been installed successfully it will be marked with green dot as shown below.
If there is a problem with the install of an application, it will be marked with a red dot.
It is not a good idea to stop or interrupt the install process once it has begun.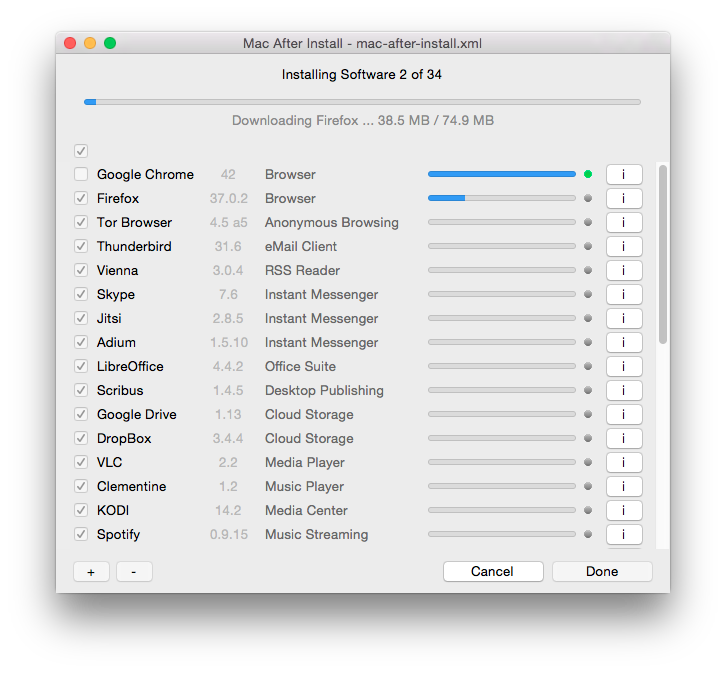 if you would like to create a single compressed backup DMG of all the downloaded applications select Create Backup DMG from the Software menu. Software > Create Backup DMG.
The backup file will be created in your Downloads folder named Mac-After-Install-YYYY-MM-DD.dmg
2. Auto Update List
When Mac After Install is started it checks for updates to the default software selection list. You can choose not to have the list updated by un-checking Auto Update List in the Software menu. Software > Auto Update List.

3. Uninstalling software installed with Mac After Install
You can uninstall any or all software installed with Mac After Install easily.
From the application Software menu select Uninstall Software : Software > Uninstall Software
To uninstall individual applications click on the "x" to uninstall the application.
To uninstall multiple applications select the items you would like to remove and click Uninstall.
Selected items will be marked by a red dot.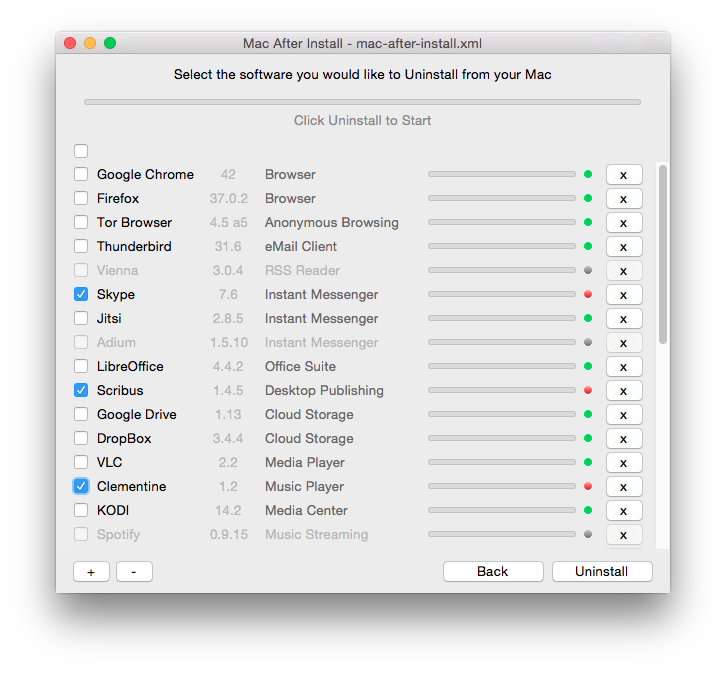 To Uninstall all software installed with Mac After Install simply click on the the select all check-box and click the Uninstall button.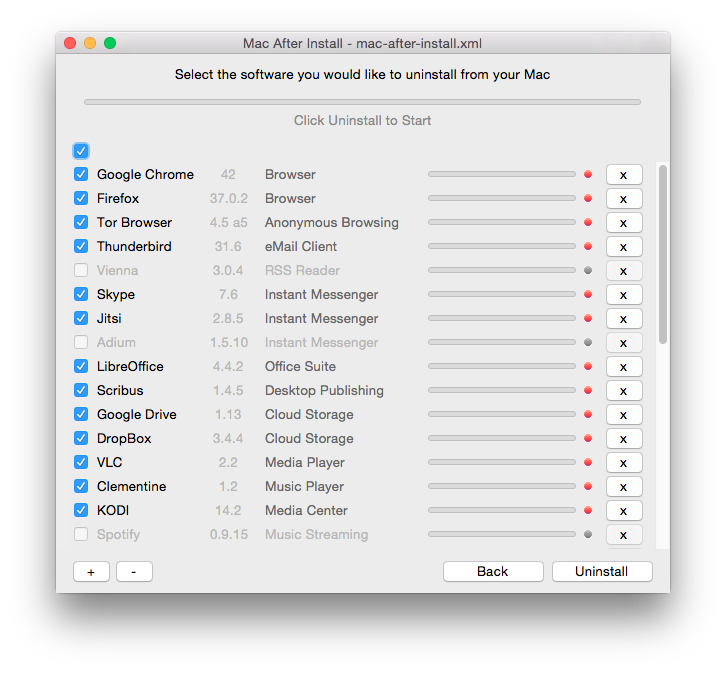 4. View and edit details of each application on the list
You can get information about each application by clicking on the "i" Info button.
To edit and update the item simply change the relevant item and click Update.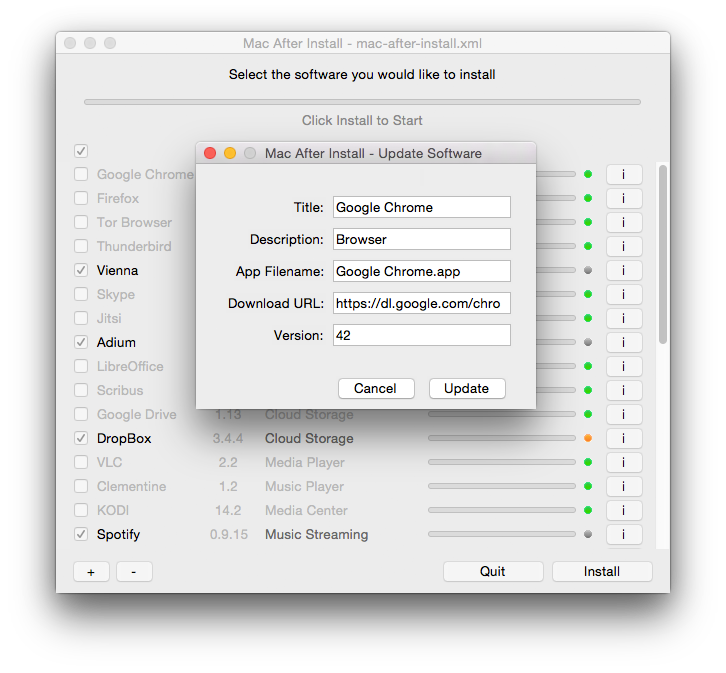 5. Add a new application to the list
You can add a new application to the list by clicking on the "+" Add button, or from the the application Software menu by selecting Add to List. Software > Add to List
To add a new item simply add the relevant information and click Add.
App Filename : Must be the name as it appears in the Applications folder after it is installed. This can be a .app file or a normal folder name in some cases.
Download URL : Must be a link to the download file. Supported formats include: .dmg .bz .tgz .tar .gz .bz2 .zip
Version : This is the version of the version being downloaded. Use format x.x.x for version numbers.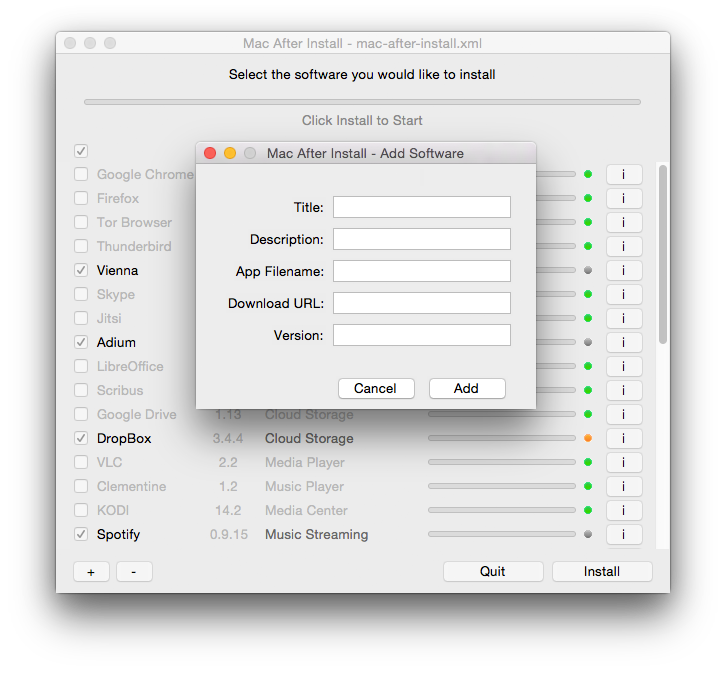 6. Remove applications from the list
You can remove an application from the list by clicking on the "-" Remove button, or from the the application Software menu by selecting Remove from List : Software > Remove from List
To remove individual applications click on the "-" to remove the application from the list.
To remove multiple applications select the items you would like to remove from the list and click Remove.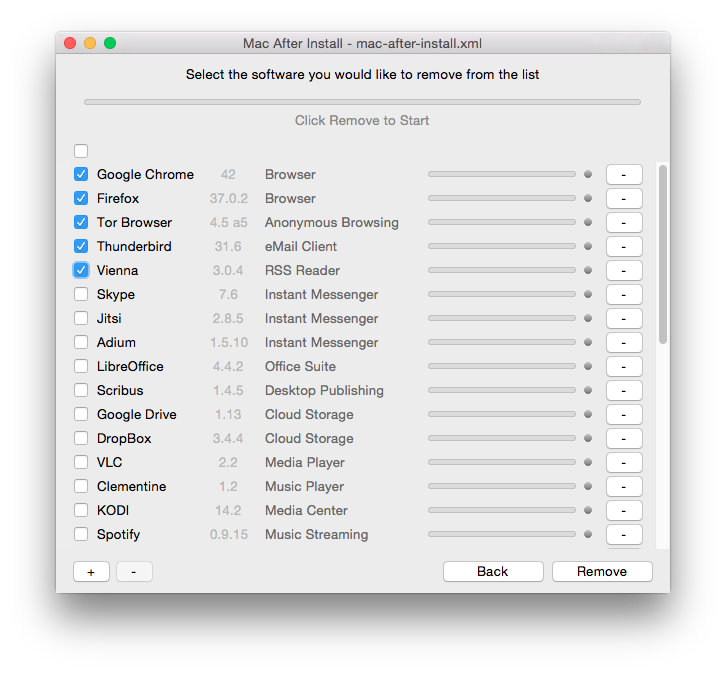 7. Import and Export lists to .mai or .xml format
You can create and edit custom lists of software and export the list in .mai or .xml format for sharing with other Mac After Install users.
To import a list select Open from the File Menu : File > Open or double click on a .mai list file to open it with Mac After Install.
To save a list select Save or Save As from the File Menu : File > Save and select the filename and folder you would like to save the list to.