Requirements
Ubuntu 12.04 - 19.04 (32bit / 64bit) or later installed. The software should work on most Debian based systems if they support Gtk3.
The Ubuntu 'Universe' repository must be activated in the Software Center -> Software Sources / Software & Updates. You can also activate the repository from command line with Ubuntu 12.10 and later with:



sudo add-apt-repository universe && sudo apt-get update

Valid Google Drive Account.
Installation
To install the downloaded DEB file just double click on the file to install via the Software Center, or use GDebi as root, or via a terminal window with: sudo dpkg -i overgrive_3.2.x_all.deb
Ubuntu 16.04 users note that after installation with the new Gnome Software Center, it could report: Could not find 'overgrive', but the software is installed correctly if your search for the application.
Ubuntu 18.04 / Mint users might need to install the Google API if overgrive does not start after install.



sudo apt install python-oauth2client
sudo pip install --upgrade google-api-python-client
Un-Install
To

un-install overGrive

simply remove via the Ubuntu Software Center or from command line with : sudo apt-get remove overgrive
Limitations
Symbolic links are not supported yet.
Forward slash ( / ) symbol in filename is not supported.
Google Drawings converted to SVG or other local file formats cannot be edited and converted back to Google Drawings format. This does not apply for the other Google Docs formats.
Google Maps and Google Forms are not supported.
Setup
After install start overGrive from the Ubuntu Dash or from your desktop Applications > Utilities menu.
Follow the setup instructions as show in the screenshots below.
1.
Getting Started

- Launch overGrive Setup
Start the application from the dash by searching for overgrive.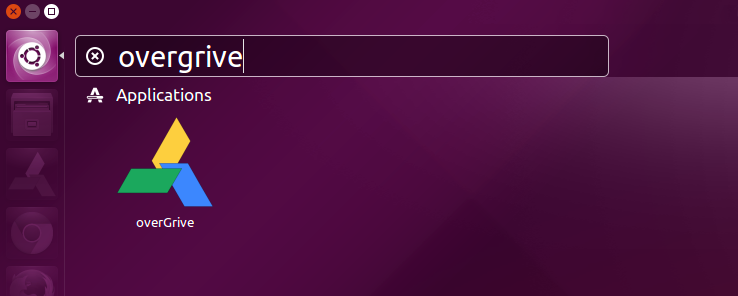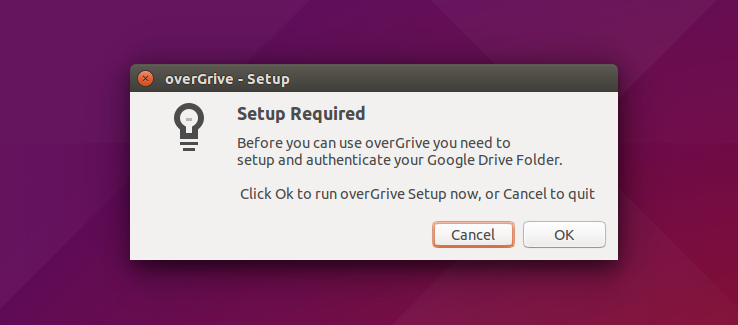 2.
Connect account

- Authorize your Google Drive account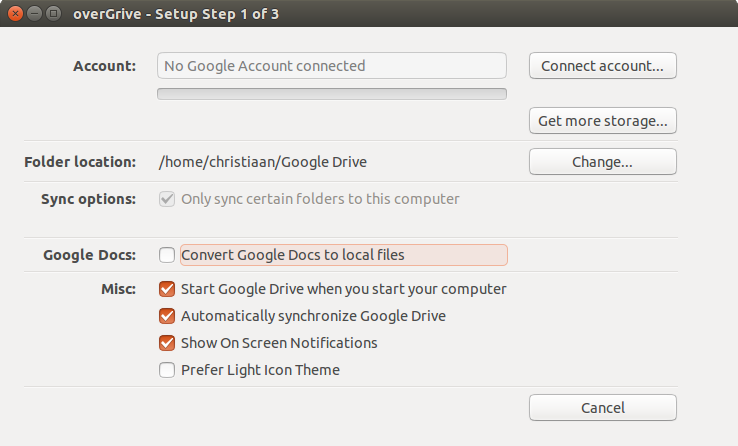 A browser window will open for you to sign in to your Google account.
NOTE: Mint users there seems to be a problem on Mint regarding what default browser is set. If a browser window does not open when clicking Connect account, try the following command and select Firefox or Chrome as you default browser.



sudo update-alternatives --config x-www-browser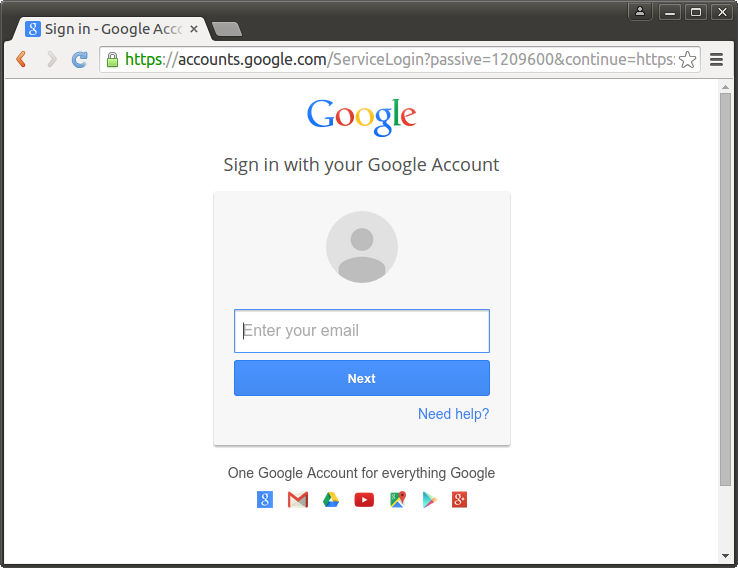 Grant overGrive permission to access your Google Drive.
Click Accept to continue.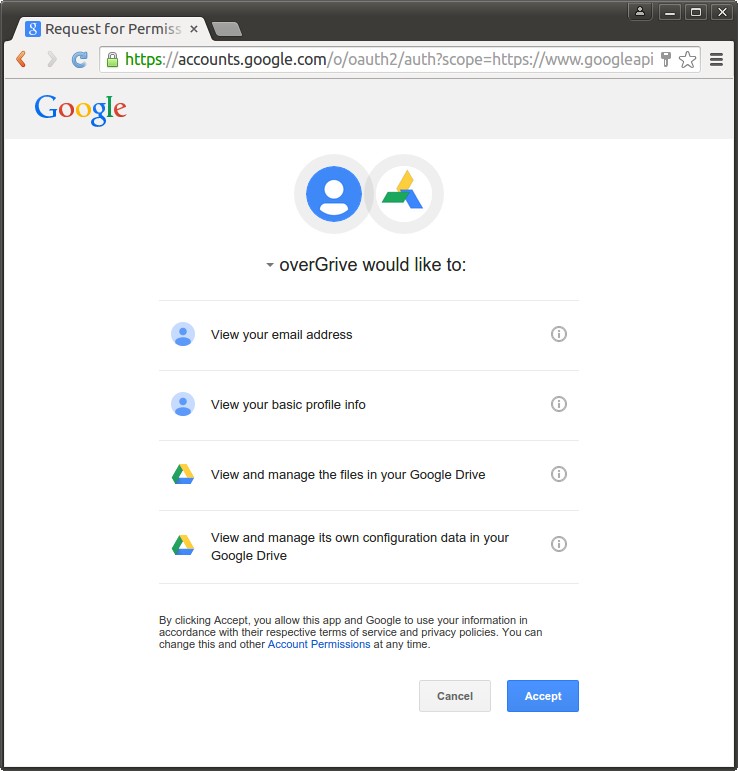 You will be given a authorization token code by Google. Copy this code.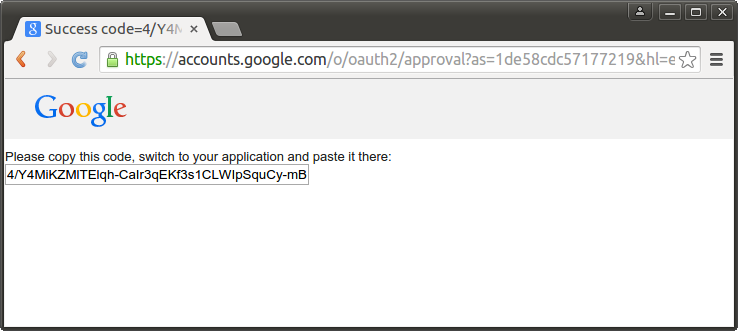 Paste your Google authorization code in the Account entry box provided.
Click Validate to validate the code.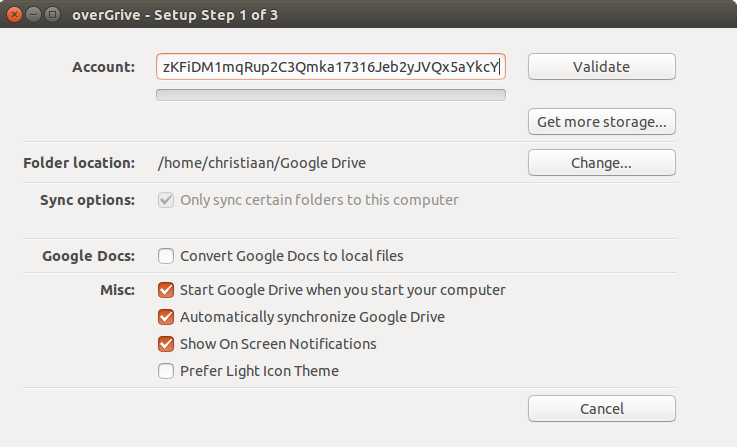 3.
First Sync
After completing the validation process, your account will be connected.
You will now be able to select which Google Drive folders to sync to your computer.

Lubuntu / LXDE / Mint desktop users and users that use Light Themes need to select the Prefer Light Icon Theme or they might not be able to see the default white application indicator icon.

You can also select if you would like overGrive to convert your Google Docs to office file formats.

Once you have completed setting your preferences. Click Start Sync
NOTE : Files in your Shared with me folder will only be synced if they are dragged to My Drive on Google Drive online. Only files and folders in your My Drive will be synced.
NOTE : Before syncing for the first time, we suggest you clear all Trash files from your Google Drive online.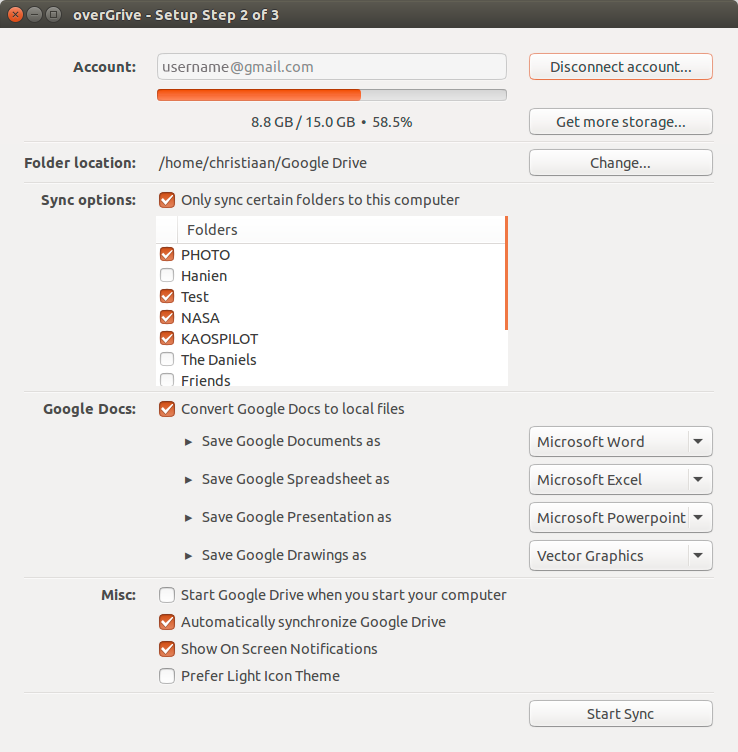 Your files will be synchronized to your local Google Drive folder from your Google Drive online.
NOTE : It is important to allow overGrive to finish the first sync completely. If the first sync does not complete it will open the overGrive setup screen again on restart. You can simply select Start Sync again to complete the synchronization process.
4. Gnome Shell Application Indicator display on Top Bar (GNOME Desktop Users Only)